FWD Insurance continues to strive toward the company's goal to be one of the top leaders in the Pan-Asian market, continue its vision of changing the way people feel about insurance. One year after the amalgamation, the company is focusing on strengthening the organisation from inside out by applying new technology and empowering its staff. We strive to build a customer-first, and digital-first insurance company with simple, faster, and smoother insurance experience, it brings the experiences to customers with the award-winning campaign "Celebrate living", which yielded over 11,000 million baht* in term of new business annualised premium within three quarters, taking the second largest share in the insurance industry.

Mr. David Korunić, Chief Executive Officer of FWD Life Insurance Thailand, said "In 2021, FWD Insurance has been working under the vision of changing the way people feel about insurance. We're committed to continue adopting digital-first models and using new technologies to innovate our business and develop our products and services based on our customer-led approach, and better serve our customers in this fast-changing world.

Since the amalgamation of FWD Insurance Thailand and SCB Life Assurance Public Company Limited on October 1st, 2020, the company has been strengthening its organisation from inside out with the idea of a culture of continuous innovation, by encouraging our staff to be innovative and be ready to respond to customer's evolving needs.

We focus on applying new technology by developing a mobile application to provide better services to customers. In the past year, the company has launched new products such as "OPD Khum Krob Chob Hai Huang" and "CI Future Cover Mod Huang" and was the first in the insurance industry to develop the "FWD Care" service, which continues to take care of the customer's welfare after a claim has been made. This product has been very successful, and as a result its insurance premiums grew at a rate is over 300% when compared with last year*.

"During the pandemic, businesses continue to be impacted. Our company has focused on shifting our customer communications to virtual means, reaching our customers with easy-to-understand product information, according to our 'Clarity' concept, connecting with our customers effectively", said Mr. David.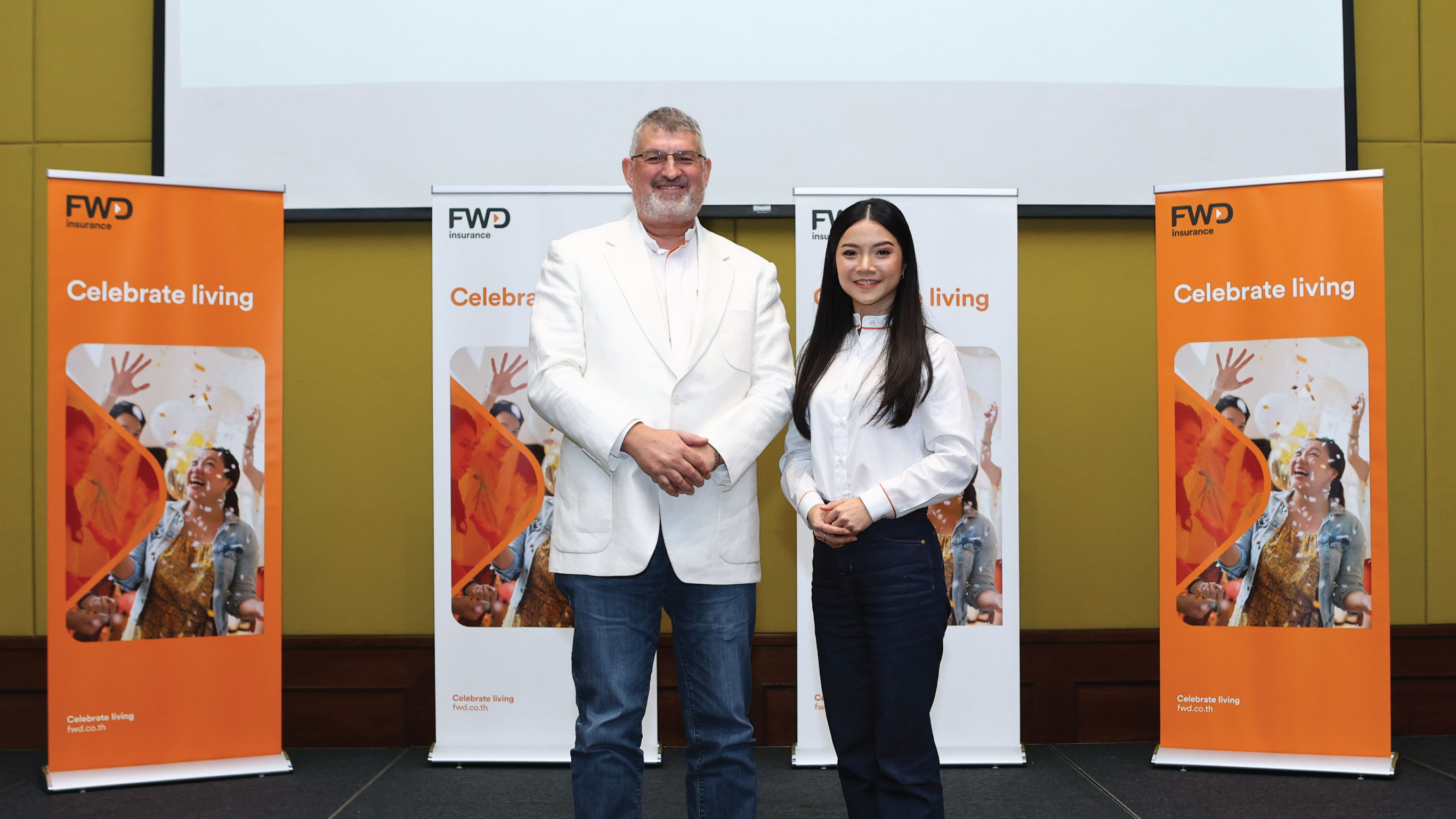 Pavarisa Chumvigrant, Chief Brand and Communication Officer of FWD Insurance Thailand, emphasised that the 'Celebrate living' campaign came from FWD's customer-led approach which is based on in-depth research showing that Thai people enjoy the micro moments in life. We used this

idea to create the a new communication strategy through the Musicumentary, telling happy stories of real people in society via online, TV, outdoor advertising, and radio spots to share their happiness and inspirations, and this advertisement film has proven to be very successful.

"One of our main strategies is to create a 'Brand Experience' that is different from others and easy to remember through different lifestyles, not only on TV, online, or news, but we have created our Brand Experience within the customer's lifestyles through 'brand sensory' by partnering with leading influencers such as food, snacks or arts, to answer all lifestyles. For example, we have 'senses of sound', in which we collaborated with a famous artist, Khun Thanakrit, and 'senses of taste', in which we had a professional chef at Guss Damn Good, create a special flavour of ice cream for us."
"Our brand's success in providing good experiences to our customers has made us No.1 in Global Customer Experience Excellence Research 2021 by KPMG International, a global organisation consultancy firm and The Outstanding Brands Awards 2021 by Influential Brands Singapore. The results illustrate how consumers perceive FWD Insurance and their satisfaction with the company", Pavarisa added.
In addition to those awards, FWD Insurance has also been successful, with its new business annualize premium** totalling 11.1 billion baht (as of September 2021), with 15% market share or the second largest life insurer within the industry. This total is the combination of 9.4 billion baht from Bancassurance, (with the largest market share of 29%), 1.2 billion baht from the insurance agents, which has had a 50% growth rate over the previous year sold by 4,615 insurance agents and 0.6 billion baht from other alternative channels. 60 million baht was derived from digital channels, which has had the largest market share at 43%. FWD will be placing more and more efforts on the digital channels in the coming years in line with its 'Digital by design' strategic plan. *
"In the coming year, in my personal view, there will continue to be new challenges. We will carry on our mission of changing the way people feel about insurance, by providing products and services that answer all customer's need according to both their lifestyle and life stage. We will continue to seek to provide the best customer experiences by working under the customer-first approach and continuing to put customers at the heart of everything of we do." Mr. David concluded.
______________________________________________
For more information, please contact FWD Insurance corporate communication:
Duangporn Choatipornpaisarn
Email: duangporn.c@fwd.com Tel. 065-936-8751
Yuthada Lochotinan
Email: yuthada.l@fwd.com Tel. 085-909-6050
Thitiporn Wongpakawat
Email: thitiporn.w@fwd.com Tel. 098-962-4699
About FWD Insurance Thailand
FWD Group is a pan-Asian life insurance business with approximately 10 million customers across 10 markets, including some of the fastest growing insurance markets in the world. FWD Insurance, Thailand, is established in 2013 and a member of FWD Group that focused on making the insurance journey simpler, faster, and smoother, with innovative propositions and easy-to-understand products, supported by digital technology. Through this customer-led approach, FWD is committed to changing the way people feel about insurance. For more information please visit fwd.co.th or facebook.com/FWD Thailand
Remark: *Refer to business report of Thailand Life Assurance Association as of September 2021 สมาคมประกันชีวิตไทย (tlaa.org) **New Business Annualize Premium = First year insurance premium + 10% of one-time insurance premium