FWD insurance emphasizes its position as an insurance brand that supports everyone to 'Celebrate living' through little things they like to do in each moment of their lives by launching new brand campaign teasers using the 'Mai Ya Mok ' as the symbol for people to continue living the way they like endlessly'. This campaign will be a testament of the new lead - Pavarisa Chumvigrant, Chief Branding and Communications Officer of FWD Life Insurance Thailand, who had transferred her knowledge and expertise in the technology sector to create differentiation for FWD insurance brand as an insurance company with a different viewpoint.

Pavarisa Chumvigrant, Chief Branding and Communications Officer of FWD Life Insurance Thailand, says "Since 2020, the COVID-19 pandemic has continued to affect people around the world. Therefore, in order to communicate the FWD insurance brand to our target groups, as well as to tell the story following the concept of 'Celebrate living' which represents our commitment and identity, we have conducted a marketing research about the concept among the target groups aged 25-50 years nationwide. The research revealed that people's definition of 'celebration' during new normal period is to be able to continue doing small things that they love to do. We have taken this finding as a core to present our brand stories."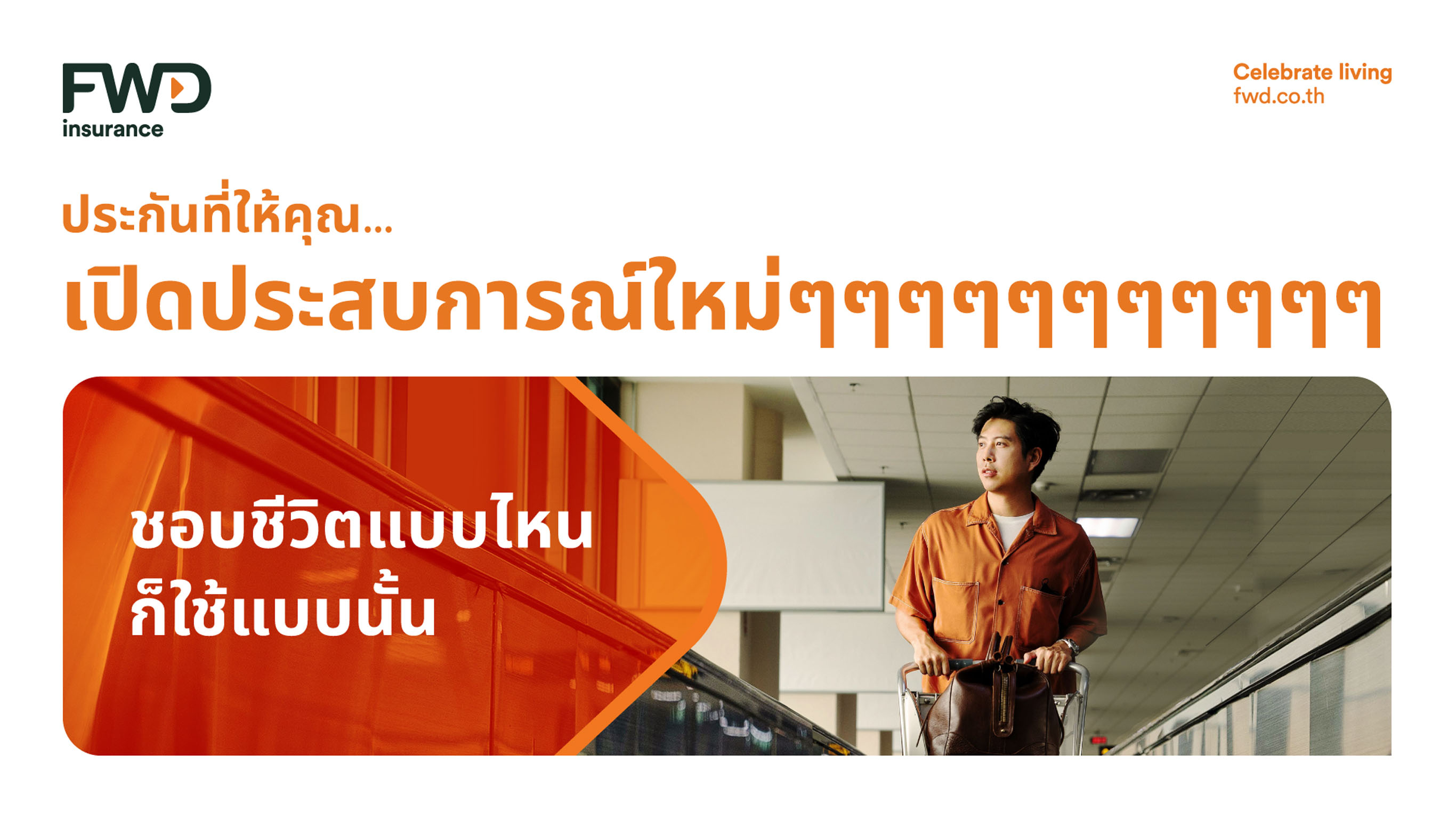 The first brand teaser will help create the awareness of FWD insurance brand's image, reflecting an insurance company that understands people's way of life. FWD insurance is ready to support everyone to live their life in a way they prefer and to 'Celebrate living' endlessly without any worry by supporting consumers to get out there and 'Continue living the way they like endlessly' through a variety of lifestyle, ranging from food, travel, working out, family activities, hobbies, etc. We have selected the four top macro-influencers joined to voice our campaign as follows:

Zom-Marie Eugenie Le Lay, representing adventurous people who live their lives to the fullest by roaming around the world again and again.
Wahnchai - Akira Wongseng from the Asapapailong Page, representing travel lovers to share his new wanderlust experiences.
Peach Eat Laek, representing foodies, sharing stories about delicious food which can be enjoyed time and time again.
Gluta story, representing animal lovers, featuring stories of his beloved pets.

Apart from this, we extended the awareness towards the campaign by inviting a number of micro-influencers to share their ideas about 'Continue living the way they like endlessly' through social media, reflecting their interpretation of 'Celebrate living' in all aspects for all target consumers.

To communicate this campaign, we have responded to the new normal strategy via the use of an array of digital content platforms. This reflects FWD Insurance's direction in becoming a full digital brand in the near future. In addition to this, we have opened a real-time chat room on the Clubhouse application as the means to carry conversations about people's happiness and little things they continue to do in life. Catering to the foodies, we have invited the renowned 'Crying Tiger Gang' to share their dining-out map which can be followed and repeated over and over. For music lovers, famous Thai singers 'Nontthanon' and 'Pop Pongkul' who are representatives of the new generation, joined to share their sing-song playlists. These entertainment activities were to expand the awareness about the campaign among consumers. Within the first 15 minutes, our chatroom on Clubhouse had received an overwhelming response with over 8,000 conversation participants.

The brand campaign teaser serves as the first step for FWD insurance to communicate its all-important meaning and the core of a differentiated insurance company that wants to change the way people feel about insurance. Join to view stories about insurance policies that support people to 'Celebrate living' and live their lives to the fullest in any situation at FWD Insurance's corporate website: https://fwdth.co/d1bEr and Facebook Page: FWD Thailand.